There are a few non-jewelry blogs I follow, and one is "French Kiss Life" by Tonya Leigh. She has this amazing view of life full of joie de vivre, and I always find inspiration from her blog posts. Her latest one is entitled 80 Mantras for the Elegant Lady. While I'm not necessarily into saying mantras on a daily basis, I still read through her list. One popped out BIG time for me…"I don't have to be a good girl." Really? Who says? This is my decision? Me, the girl who had "Goody Two Shoes" by Adam Ant dedicated to me countless times in middle school? Me, who always does the "right" thing, even if it isn't the best decision for me? Hmmm…very interesting. Revolutionary, really.
Perhaps this thought has been percolating in my subconscious for a while, because when I saw Efva Attling's Passion Cuff rings at the Couture show, I made the sales rep take them off her own hand so I could try them on!
I don't think the casual observer would notice that they are handcuffs, but as the wearer, you do! With a subtle reference to being naughty, it brought a devilish glint to my eye. In addition, I think these sort of multi-finger rings are just hot-hot-hot! She also makes the design in a bracelet.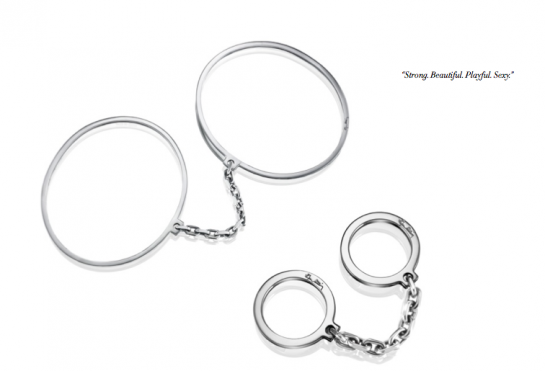 I think when I work in NYC later this month, I'm definitely going to make a point of visiting her store in the Meat Packing district and try those rings on again. I don't need to be a good girl, and I think that this piece might be just the mantra I need, yet in the form of jewelry! 😉