Ever since I bought myself an Arik Kastan three-moonstone ring for Christmas a couple years ago from Twist, I've become a BIG fan of this vintage-inspired line. When Tamar Kelman, the creative director of the line, had a trunk show in Marin a year or so ago, another ring just maaay have gone home with me. Just maybe.
Arik Kastan is a jewlery designer based in Tel Aviv, and he utilizes old world jewelry making techniques.  From sketch to finish, all work is done by hand, even the links on the necklaces! Tamar told me, "There's a heartbeat to every piece." Well-known for his particular alloys of rose gold and yellow gold, his work is inspired by the Victorian era, Art Deco, as well as old Arabic and European architecture. I want to share 11 of my fave pieces from this delectable collection with you…
Double Gypsy Cigar Band with moonstones
Cobblestone Ring with rose-cut diamonds
Victoria Bangle in turquoise
Tiara Evil Eye Ring with blue sapphires and turquoise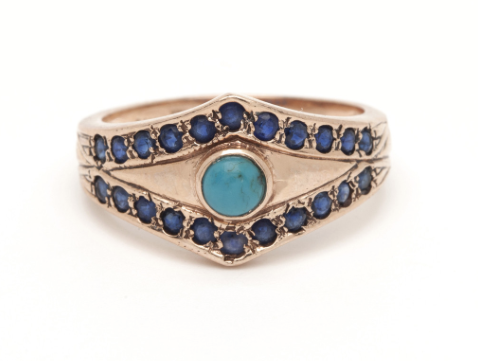 Cocktail ring in labradorite and blue sapphires
Buckle Ring with garnets
Tree of Life Padlock with Labradorite
Marchioness Ring with turquoise and rose-cut diamonds
Five-Stone Canoe Band with turquoise and sapphires
Needlepoint Drop Earrings in turquoise
Peacock Ring with opals and a rose-cut diamond
So how's that for some eye candy?! Now I hope you can understand why I've become such a big fan. Which piece would you pick as
your
favorite? I'm looking forward to seeing Tamar at the
Couture show
in Las Vegas and exploring the new designs!