What?! Don't you live/work in SF? Well, yes…I do.  I am a Bay Area native. I work in San Francisco many days a week, and I lived in Pacific Heights for a few years as well. (I currently live 15 miles south of the city.) But don't you find that when you live somewhere, you often don't take the time to visit all the cool, local places as opposed to when you're visiting somewhere new? Heck, I know SF born and bred people who have never been to Alcatraz or walked the Golden Gate Bridge, but I know all my friends who've visited from abroad have done these things!
This was the impetus for Friday's field trip, with my fabulous co-hort, Jennifer Bressie. There were a few jewelry stores in areas of SF we don't often frequent which have been on our "must see" list. So we both cleared our schedule for the day to check them out. Jen was the driver, and I was the the direction girl…(Jen probably should have been worried when I had my directions scrawled on a piece of paper, instead of using Google maps on my phone!)
Our first stop was going to be D & H Sustainable Jewelers in the Castro. Now I know that directions aren't my strong suit, but the streets in the area where Noe and Market (and others?) meet are so catywompus, that we found ourselves stuck behind this trolley, at a dead stop. (Please note the "Dead End" sign to the right. It's true, signs don't lie.) Oops! Let's do a "creative" U-turn. Perfect. Did I mention I'm not the best navigator?!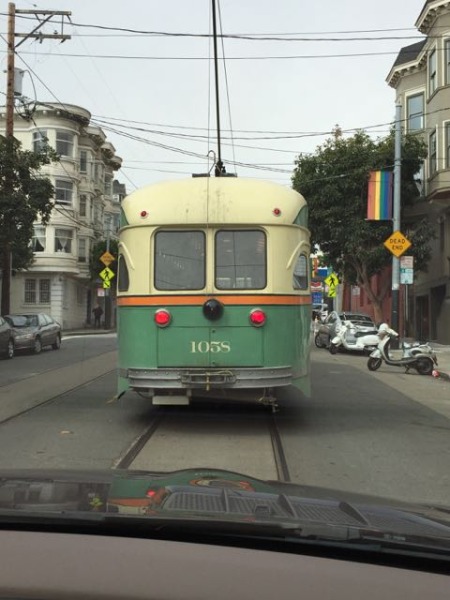 But it was all worth it, and Jen's superb driving skills got us to our destination. In a matter of about 10 minutes, I knew that I wanted
Shawn Higgins
, half of the duo behind D & H Sustainable Jewelers, as a new best friend. His humor, expertise, and openness are infectious.
This store is among the first that will be
SCS certified
, meaning that 100% of their products are ethically sourced and sustainable. What a fabulous feat! They sell their own designs, as well as representing many other jewelry designers. It's clear that bridal is a huge category for them. Being the magpie that I am, I went straight for the bling-iest ring in the case, featuring a flawless yellow canary diamond. (This is one of their own designs.)
Another one of their amazing pieces is this cage pendant, which took over a year to make, to get it just right. It's made of sterling silver and 14K gold, and housed an incredible Alexander the Great coin, dating back 2500 years. Adore.
You can open it up, and really put whatever sort of talisman you'd like inside.
I also thought this necklace, made from a re-purposed 1910 Edwardian lingerie pin was quite fantastic.
If you're looking for a supremely unique wedding ring for your guy, then check out this Gibeon meteorite set in rose gold by
Lashbrooke
!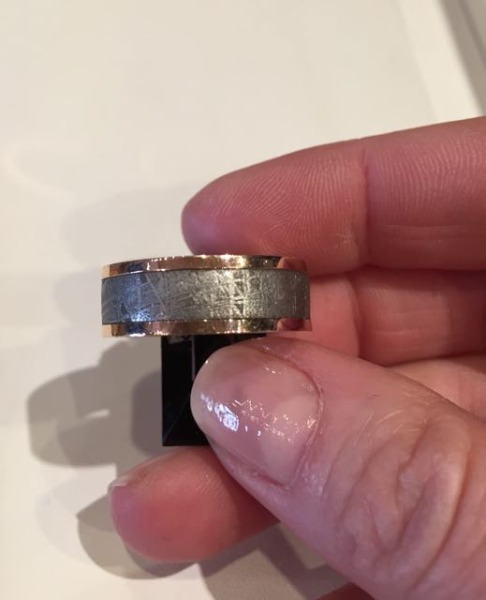 After briefly meeting Lindsay (the other partner), we had to run. Lunch was most definitely next on the agenda, and you can't go wrong with the croque monsieur (for me) or the burger sans bun (for Jen–she's so good!) at
Absinthe
in Hayes Valley.
With our appetites sufficiently satisfied, were were off to Metier. You may be familiar with this store. They spent 5 years on Maiden Lane (Union Square), 16 years on Sutter (where they were a large clothing and jewelry boutique), and then a year in the Shreve building, before moving to this new location on Laguna. This jewel-box of a boutique offers both vintage/antique jewelry as well as merchandise from current designers. The more carefully you look, the more you see. The owners, Sheri Evans and Trina Papini, have an impeccable eye, so the collection is curated to perfection. During our visit, the place was hopping with customers!
I couldn't resist trying on these Georgian rings, which are from the late 1700's-early 1800's. Amazeballs.
Or what about one of these silver bracelets, from Victorian to Arts & Crafts? So easy to mix with current outfits!
They always have a fabulous selection of
lockets and charms
.
One of the current designers they carry is
Arielle de Pinto
, who weaves magic with metal. The ombre finish on this necklace is just perfect.
Loved seeing Sheri and Trina, and I'll certainly be back soon.
Our last stop of the day was in the Mission.
Love & Luxe
is an amazing jewelry gallery and atelier owned by artist-in-residence,
Betsy Barron
. She shows her own work and also showcases 40+ other hand-crafted lines in her spacious store. As luck would have it, she came to the store during our visit. Yay!
First checking out Betsy's line, I couldn't help but try on a few rings.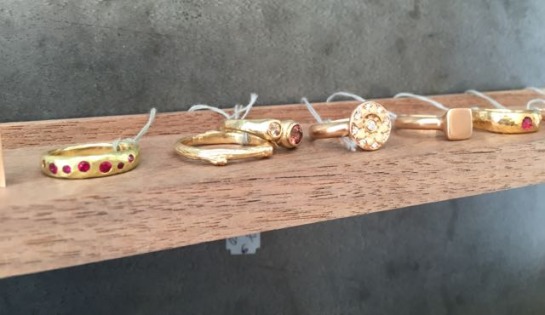 Jen was in love with this rose gold locket from 1870. She is a
total
rose gold girl!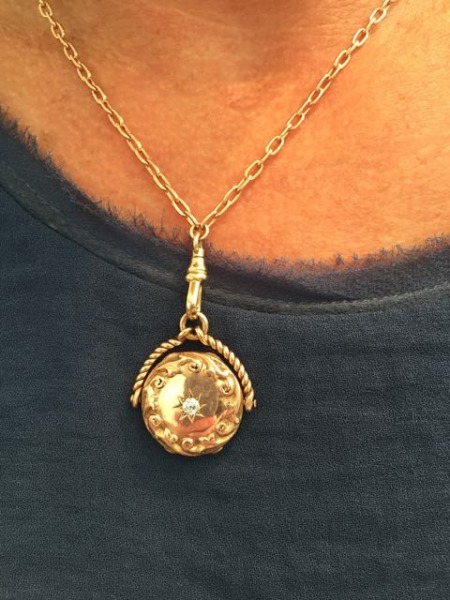 I definitely have always had a thing for turquoise, and this vintage-inspired design with Sleeping Beauty turquoise by
Chris Neff
made me smile.
Definitely one of the most unique lines I've ever seen is 
James Banks
, which is a collaboration between Adam Schulman and Heidi Nahser-Fink. Here is their necklace called "Lightkeeper." On one necklace, there is a glass bulb filled with black diamonds and one ruby. Then on the other necklace are the "tools" you can use to open the bulb to add/change whatever you want inside. Have you ever seen something like this?!
Even the box it comes in is exquisite.
There was also a lovely selection of work by
Johnny Ninos
. His current collection is inspired by barnacles, as shown in these rings. Organic beauty, no doubt.
Jen had to take one more look at that locket before we had to leave and get back on the road…
I can't think of a better way to spend the day–with a life-long friend (We actually went to kindergarten together!) looking at gorgeous jewelry! Thanks to all of you for your time, knowledge and kindness!