I think I may approach Valentine's Day differently than many women. True, I don't currently have a love in my life to share it with in the way that Hallmark intended us to, but that really doesn't make me sad. I feel complete with myself, and I think this holiday is another perfect opportunity to gift myself with a heart-felt token…no, not chocolate (though that's not off the table), but with jewelry of course! With the overabundance of catalogues and e-mails flooding my mailboxes, I came across many items that would definitely bring a not-so-obviously-valentine-sy smile to my heart.
The first is this heart pendant by Mizuki. The word "love" is subtly spelled out with pave diamonds. (Thanks to my friend Jen for modeling it while we were shopping at Red Bird.)
Again, liking the subtle reference to the heart theme, I thought this bracelet by Zoe Chicco would be so cool in a big bracelet stack. Though you would know you were wearing a self-love gift, most people would just admire your bracelet collection as a whole.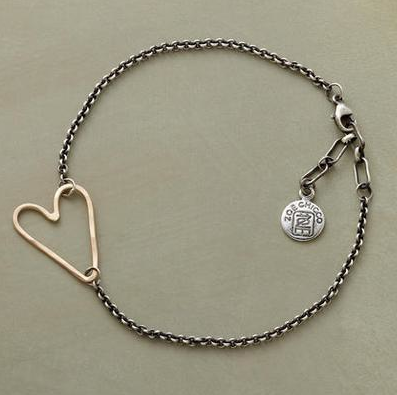 I know there are some of you that would rather have a more obvious sentiment. Meeting in the middle, these 14K gold hearts with white diamonds featured in the Arhaus catalogue would achieve this.
I adore this ring by Workhorse, and if you're a Francophile, you undoubtedly will as well. Perfect on its own or in a creative stack, I "heart" it.
If you want to be more incognito, then how about this cuff by Coordinates. You can have the coordinates of a special occasion engraved. This doesn't meant it has to be where you were married or where you first fell in love, but how about where you were born or where you had some other significant event happen in your life, just for you?!
And last, but certainly not least, perhaps you are inspired by the colors associated with Valentine's Day — from pink to red. If so, then these amazing sea glass rings by Aloha Sea Glass are just perfect.
I wish all of you a wonderful Valentine's Day. May you fill it with whatever it is that makes you happiest, be it a special dinner with your love, a luxurious massage, or your favorite cocktail and a little trash TV. Cheers! xo