One of the things I like best about the Couture show is that it's like traveling the globe, right in Vegas. One minute you're in Italy, and the next moment you find yourself in Germany. This post finds me in Brazil, at the booth of Carla Amorim. And first up, I had to try on this stunning "Brasilia" ring from her Black Label collection. (Brasilia is where the designer lives with her husband and two children.) The modern, sculptural design and the plethora of diamonds definitely creates a substantial look on my finger!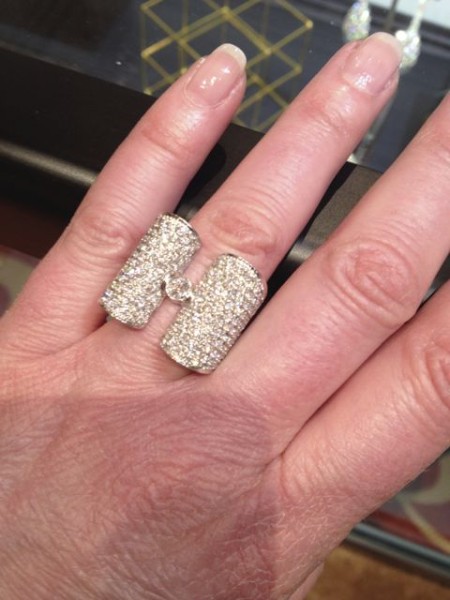 Twenty-two years ago, Carla designed and made her first ring, which had a textured gold pattern. She continues the theme to this day, as shown in this "chapel" ring in rose gold.
I learned that Carla has three main inspirations in her design. The first is her country of Brazil, including its culture, nature and lifestyle. The next is Brazilian architecture, most importantly the designs of Oscar Niemeyer. The third is the Catholic religion. It turns out that 96% of the country is Catholic (who knew?!) and she goes for a "liturgy chic" look — love that! Since I am not Catholic, and I've never had a rosary, I really enjoyed seeing her modern and not "in your face" religious interpretation of them. In particular, I thought her rosary ring was genius! It spins on your finger, with each gem representing a rosary bead, so you can say all your Hail Marys in a very subtle, yet sparkly way.
She also has these very cool layered necklaces that represent Jesus and Mary. Each year she adds pieces to her Sacred Collection. She really has a brilliant way of letting people express their religion in an on-trend way that isn't ostentatious. I admire that.
But of course, there were two pair of earrings that were most definitely show-stoppers, in my opinion. Just the detail of the diamond-embellished onyx earrings is fabulous. And the fact that her pieces are produced in her country is an added bonus.
I was certainly not surprised to find out that Carla has 7 stores in Brazil, as well as having a major international presence. I'm so happy that I got to take this little jaunt to Brazil!