I believe one of life's greatest gifts is when a person finds their true passion in life, and then can make a living pursuing it. This is exactly what happened to Toby Pomeroy. Gracefully allowing me to interview him during his lunch break at the JCK show in Las Vegas, Toby described how he discovered his love for jewelry design. He was in medical school, but signed up for a jewelry making class as an elective during his senior year. His professor, Max Nixon, could clearly see he had a talent, and gave him a key to the jewelry lab so that he could work any time he wanted. Toby was hooked (He said he practically lived in that lab!), and he never looked back.
Toby has a gentleness about him and a sparkle in his eye! He was so open and eager to tell me about his work. One of the things that he's world-known for is his commitment to environmentally sustainable, socially responsible jewelry. He explained to me that his real focus is on the impact of the mining industry, and he says it's up to jewelers to request ethically sourced materials. He, himself, goes down to the mines in Columbia and works directly with the miners, staying with families there. He told me how they're so proud of what they do, and they never thought that they'd be recognized for their hard work. This is amazing to hear! Here are a few photos he shared with me, including the mine entrance at the Canada mine, and a couple images from La Llanada. What a gold nugget!
Due to Toby's efforts in refining re-claimed metals in cooperation with Hoover & Strong refiners, he launched EcoGold and EcoSilver in 2006, which has started a new revolution in sustainability in the world of jewelry. Toby sets the standard with True Gold, which is described as, "…TRUE GOLD™ jewelry uses completely traceable gold, platinum, diamonds and gemstones, showing complete authenticity from mine to market. When you purchase source certified TRUE GOLD™, you are supporting Fair Trade and Fair Mining efforts, conflict-free diamonds, and environmental responsibility."
Now that you're surely excited about the materials, let's take a look at Toby's beautiful designs. He's most famous for his Eclipse hoops, which I first saw at Manika Jewelry in San Francisco. Toby described them to me as, "..an elegant marriage of form and function." This photo shows a style with a shiny finish and diamonds.
I loved this Orchid cuff I tried on at the show. Its blackened EcoSilver with a dash of diamonds is just lovely!
Another shape, which is a modification of his classic Eclipse, is the Oval Eclipse collection.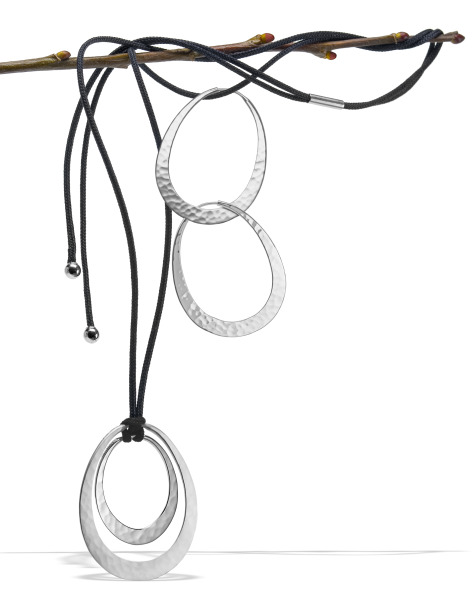 The texture on his pieces are all hand-forged, with the help of his wonderful crew, Hank Hermansen and Rachel Richardson.
Imagine the work that goes into pieces like these, from the Oasis collection.
Or in these delicate Ginko earrings..
Toby also incorporates colored gem stones into some of his creations, such as in these earrings from the Comet Collection.
While every piece is produced at his studio in Oregon, you can find his line around the globe. Click
here
for a store locater guide. It was an
absolute
pleasure to meet Toby and learn about the positive impact he's making in the world!