The first time I met Petra Class and saw her beautiful line was at the American Craft Council show in San Francisco. (She'll be showing there again this coming weekend, August 3-5!) Her line had a very modern aesthetic, with clean lines and delicious gems. I was delighted to once again see her at the Couture show, and I had a chance to chat more with her (loved finding out that she's a 2nd degree black belt in Aikido!) and really explore the line.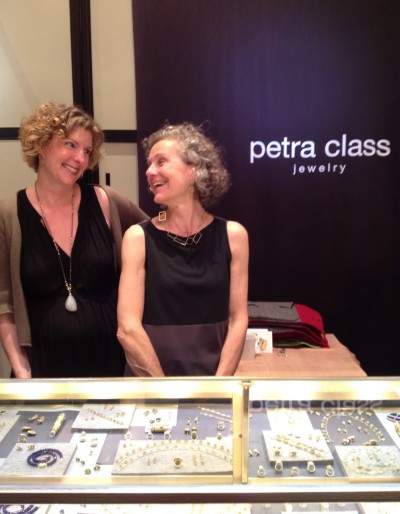 Petra was born and raised in Germany and started designing right out of high school. She adores sitting at the work bench working on her designs. All her pieces are made right here in San Francisco, and she only uses recycled gold.
Here is a stunning ring. The blue-green hues elicit the feeling of the Mediterranean. I can almost feel the sun shining down on me…
This bracelet really showcases Petra's perspective. As she told me,"I like crazy in a structured way." Well, I certainly believe she achieved it with this creation!
I thought this pair of pearl, gold and diamond earrings had a particularly feminine feel, though combined with a modern edge. Nice juxtaposition!
Aside from at various shows, you can also find some of her line at Gumps in San Francisco. Personally, I really hope to make it to the ACC show at Fort Mason this weekend and see her latest work. If you're in the SF Bay Area, hope you can make it as well!