As I explored the floor of the JCK show in Las Vegas, there was quite a buzz about Little H jewelry. "Amy, you just MUST stop by her booth! You've really never seen anything like it," exclaimed more than one friend of mine. My curiosity was most certainly piqued, as I couldn't imagine what could be done with pearls that was so revolutionary.
Ok — everyone was correct — my eyes opened wide in amazement when I saw what Hisano Shepherd was doing with pearls. She has created pearl geodes!! Look at these rings I tried on! They are filled with black and white diamonds.
How did she come up with this idea? Well last year she was at the Tucson Gem Show and was quite taken by all the geodes, such as these amethyst ones.
Having a history in the pearl business, she came up with the idea of cutting a pearl in half, polishing the inside, and then lining them with gems and seed pearls. How cool is that?! Here's some of the pearls, both whole and cut open, to show you what they look like.
Hisano uses mainly three types of pearls in these collections: Tahitian, South Sea, and Souffle (which I had never heard of before.). Souffle pearls are grown in such a manner that they are hollow inside. She goes to Hong Kong three times a year to source all the pearls and gems. She cuts each pearl herself, and each stone is handset in her Los Angeles studio, with the assistance of her one assistant. Very labor intensive, to be sure.
I couldn't help but admire the ombre effect she created in this pendant.
Hisano doesn't want pearls to be thought of as dowdy, and she has really come up with a way to make them relevant for today's woman. Here are a couple more pieces from her
Pearl Geode Collection
, including a bracelet and earrings with jackets.
I think her
Finestrino Collection
(meaning little window in Italian) is so special. You can see how she has created windows into the pearls, and then filled them with gems.
There's alto the
Grotto Collection
, where you can see through the whole pearl on the earrings and pendants, and the opening is then gem-encrusted.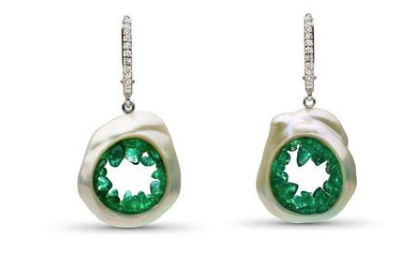 I must say, I had such fun trying on all her designs!
And she has not forgotten about the men out there. How about these Tahitian pearl and black diamond cufflinks?
Although I think if
my
significant other owned these, I'd be "borrowing" them and pairing them with an untucked white tuxedo shirt and frayed-hem jeans. Luxe casual!
If you'd like to see more of Hisano and hear about her process, you'll enjoy this video.