I got my first in person look at Sydney Lynch jewelry at De Novo in Palo Alto. I was immediately a fan. The color combinations in this contemporary line are simply gorgeous. You can imagine how excited I was to meet Sydney in person at the JCK show in Las Vegas! I didn't know what to try on first! Can you believe the statement this boulder opal cuff makes? I couldn't stop taking photos of it.
Or what about the luminescence in this rainbow moonstone ring?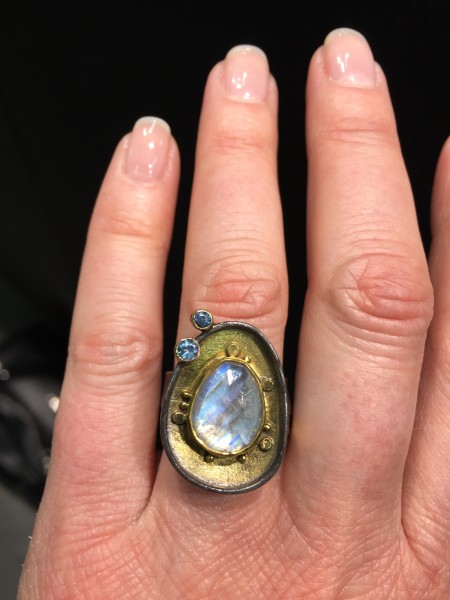 Sydney began her career in jewelry 1981. She spent time during college working at a Navajo reservation, where she met her first silversmiths. Although she had been a jewelry girl since childhood, this seemed to be the impetus that got her going on her own line. (And I'm so glad it did!) She now resides in Lincoln, Nebraska, where each and every piece is hand-crafted in her studio by her and her assistants — two of which have been with her for over 20 years!
Sydney was born with an acute sense of color, and you can see the result of this talent in her work. Here's a shot from her website showing her and Tammy working on the layout for some bracelets.
You can see how carefully each gem and hue is placed in order to create a stunning result. Here's an example of
a bracelet from her archives
 in a parade of blush tones.
In this
bracelet
, she extends the palette from pinks to browns. Isn't the result just breathtaking?
If you take a look at
Sydney Lynch's Instagram feed
, you can see that nature is a definite influence in her work. It's not only the colors that inspire her, but the shapes as well. She does, in fact, have a wide array of mixed metal pieces in her collection that would be perfect neutral additions to any jewelry box. Here's a couple pair of earrings, one with
Baroque Tahitian pearls
, which would easily complement any color palette.
This
bold cuff
would add punch to an outfit, don't you think?
While at the show, this necklace really caught my eye. It would definitely function as a neutral in my own wardrobe.
If you'd like a little inside look at Sydney and her process, take a minute to watch this video.
What you've seen here is just the tip of the iceberg, let me tell you!
Click here to see a list of retailers
. In addition, you may enjoy her
journal/blog
— I signed up for it, and I love receiving it in my e-mail inbox. Thanks, Sydney, for your time — loved meeting you and seeing your luscious line!