So…does this array of stunning gems get your mouth watering? I know it does for me! Given the choice, I don't know which one I'd want to wear first! Well all of these lovelies are the creation of Malak Atut from her jewelry line, Zaiken. (I learned the name Zaiken is a combination of her two sons' names.) I was very honored to spend some time with her at the Couture show, and get an inside look at her collection.
Malak's line is based in Manhattan, and every piece is made there. (Woot!) She has two main looks in her line. The first is Throwing Stones, which the above photo shows. This is where she "bezel-sets eye-poppingly gorgeous gemstones atop other gemstones." The result is truly unique and lovely. Here's a closer look at a pair of rainbow moonstone earrings from the collection.
One of Malak's specialties is using unexpected color combinations. These earrings, made with sapphires and adorned with paraiba and yellow diamonds, are case and point. They are simply works of art, don't you think?!
With the tag line, "There's more than one side to you," you'll understand her other main collection, Alter Ego. The pieces in this group have a geometric feature that flips over, revealing a whole new design. Because it's true that we all have two sides to ourselves … maybe a little bit naughty and a little bit nice? I tried on one of the rings, which has diamonds on one side and enamel with diamonds on the flip side.
Here's another clever example in the form of a necklace.
During our interview, I couldn't help but notice her wrist, and the beaded bracelet that clearly was made by a much younger designer — a 4 year-old, in fact. Her son gave it to her when she was leaving for the show so that she'd have part of him with her while she was gone. How cute is that?!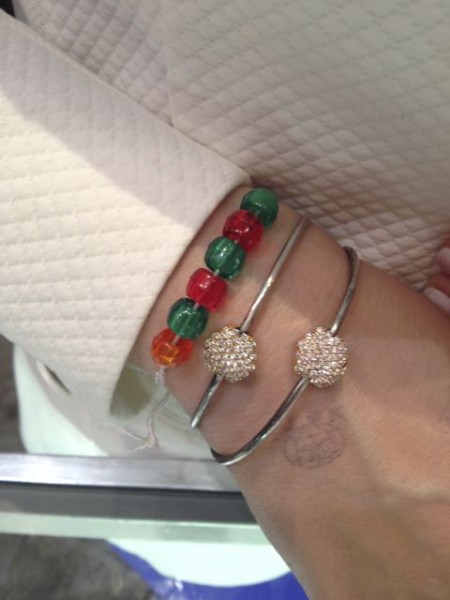 Not only is Malak a talented designer and loving mom, but she also is involved with a special project in conjunction with
Gemfields
. Gemfields is the largest supplier of ethically mined stones in the world. You may have seen some of their press, with
Mila Kunis
as their ambassador. Malak has designed a capsule collection for them this year. This pair of gold and emerald studs and ring are part of the capsule. I think it's fabulous to know the jewelry you wear has come from a good place, don't you?
The passion and creativity were simply bursting from Malak while we spoke. I can tell that she has numerous designs in her head, and I can't
wait
to see them come to fruition. I'll be waiting and watching!