I've got to be honest — London is a bit of an overwhelming city for me. It's absolutely ginormous, and there's so much to do, see and eat. But I want to share an itinerary for jewelry lovers that will make this big city feel all cozy and sparkly. My first stop is always Liberty. (I actually visited three times on my last visit!) Not only do they have an incredibly well-edited collection of clothing, but there's the fabrics, the home area, and of course…the jewelry department.
Isn't the vibe just too cool with the dark beams, the greenery, and the ultra-modern cases? You'll find a wide array of jewels here, but I spent quite a bit of time in the Annina Vogel area. This gold-centered line includes both vintage/antique and it's combined with her own designs. I always have a soft spot for old meets new in the world of jewelry.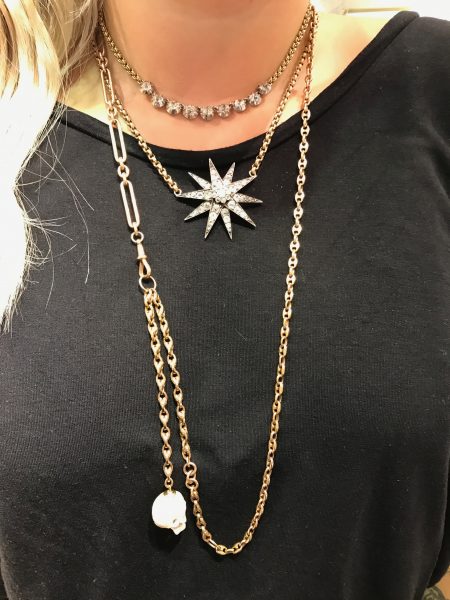 I was VERY partial to this diamond and gold necklace… (Where's my bottomless wallet when I need it?!)
By this point in the day, I'm always ready for lunch, and eating at the Arthur's Restaurant at Liberty is a real treat. Once your stomach is satisfied, you can walk to Browns, which is completely different than Liberty, but equally enticing. Browns is a large split-level boutique, and you'll find fabulous merchandise at each turn. I'd been following Browns on Instagram, so I did a little happy dance when I got to the jewelry department.
Stephen, the dashing sales associate, was just lovely, and he gave me tour around the cases. While I was pleased to see some of my favorites, like Foundrae and Marla Aaron, I also enjoyed seeing brands I don't see in my regular travels in SF, such as Daniela Villegas, Sabine Getty and Anissa Kermiche.
Depending on how your schedule (and wallet) are doing, you can also pop into Grays Antiques, which is just around the corner from Browns. Although I warn you, this place could easily take up the rest of your day! And if that's the case, enjoy!
If your spending limit has been hit, then this is the perfect time to cab over to the Victoria & Albert museum. While there are always numerous exhibits to see and enjoy, being that this is a "jewelry day" I'd head straight to the jewelry room, where your jaw will seriously hit the ground!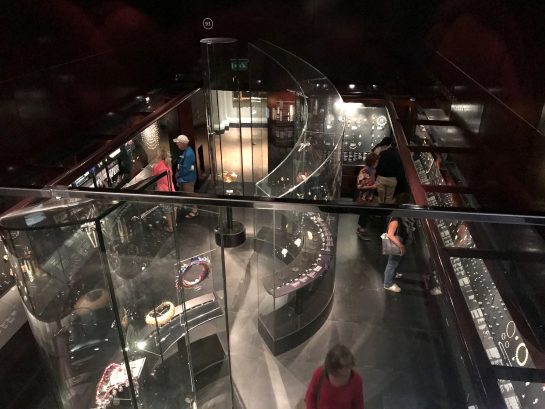 While of course it's wonderful to drool over the collection, it's also fun to try things on, right?! Down in the V&A gift shop, they've got a diverse jewelry section with all sorts of modern designers, many of which were new to me, which is always fun.
By this time, your feet will likely be in need of a rest, so take a load off and enjoy happy hour! Hope you've enjoyed this little bling-filled tour of London. Let me know if you have any favorite jewelry spots in the comment section below — I'd love to hear from you!