Oh, you lucky April babies…you get the diamond as your birthstone! This gem, made of pure carbon, is known as the "stone of invincibility" because it's the hardest known naturally occurring substance. It comes in most colors of the rainbow and can range from clear to opaque. Not only are diamonds beautiful, but they bring many wonderful qualities to those who wear them:
-enhances your inner vision, opening one to new possibilities
-brings balance to your brain and life
-builds strength and fortitude
-is a symbol of faithfulness and love
-helps release fear and anxiety, and builds courage and hope
-associated with success and abundance
One interesting thing I read while researching diamonds is that they are purported to amplify both the positive and the negative. So, for example, if you're in a terrible mood, it will apparently magnify this feeling. It is suggested that one take off ones diamonds if feeling negative. Interesting, hm?
I was a bit overwhelmed when I began pondering how I could narrow down my examples of diamond jewelry to just a handful. There's SO many pieces I love out there! Therefore, I decided to narrow the field and show you some of the fantastic designs from my local peeps — talented designers from the San Francisco Bay Area. I asked 11 different designers to share one of their current favorite pieces from their collections. So here they are in no particular order for your viewing pleasure…
Adeline Jewelry Quintet Ring — hand-carved 14K yellow gold beveled-edge band with five rosecut hexagon salt and pepper diamonds
Rebecca Overmann Signet Diamond Waterfall Ring
— 14K yellow gold with rosecut and brilliant diamonds (photo by Jay Perez)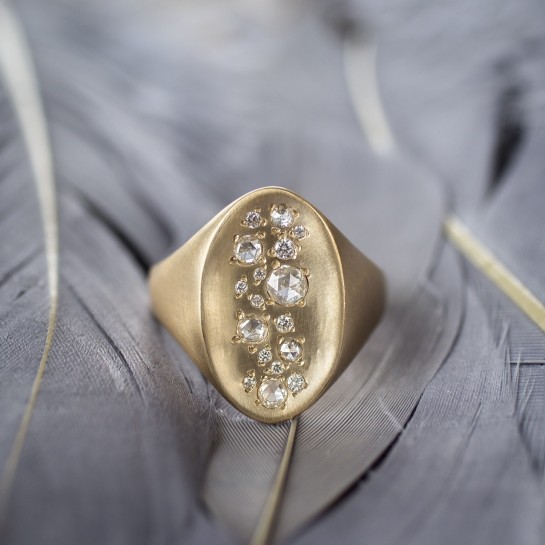 Vicent Agor Hokule'a Sailboat Earrings
— 18K yellow gold and diamonds
Jennifer Dawes Blockette Pear Diamond Ring
— features a 1.97 ct white diamond (cut by Lewis "Lazer" Wolf) in a hand-engraved milgrain platinum bezel
Ashley Morgan Diamond Slice Necklaces
— These come in a variety of shapes with diamond accents on the 18K white gold chains.
Sakura Haru Halo Diamond Cluster Ring
— 14K rose gold ring featuring and old euro-cut diamond from the early 1800's (diamond from
Perpetuum Jewels
); the smaller side diamonds are from the client's father, who had recently passed away.
Sethi Couture Silhouette Marquis Diamond Earrings
— white diamond baguette earrings accented with Marquis diamonds in 18K yellow gold.
Sarah Swell Galaxy Diamond Band
— inspired by a cluster of stars, this ring is 18K yellow gold (
also available in white
) and features .10 ct of conflict-free diamonds.
Tura Sugden Marquis and Diamond Slice Drop Earrings
— 18k and 22k yellow gold with gray marquis diamonds and naturally marbled champagne diamond slices
Thalia Jewelry Diamond Rings
— includes a platinum and diamond eternity band, a 14K rose gold diamond eternity band, and a larger platinum and diamond band, and a 2ct 18K yellow gold band.
Lauren Wolf Diamond Prism Ring
— features three kite cut diamonds set in 18k yellow gold (It also comes in a
smaller version in rose gold
.)
I don't know about you, but I'm blown away by the range in beauty coming out of the Bay Area. Thank you so much to the wonderful designers for sharing your work! May all of you with a birthday this month have a wonderful celebration and some fun shopping for diamonds. xo