So Native American jewelry can go one of two ways…horribly wrong (are you still in your Pocahontas Halloween costume?!) or terribly chic (channeling a Ralph Lauren ad). Personally, I've always been drawn to this genre of accessories, and it works in beautifully with my boho chic personal style. On my most recent trip to Las Vegas, I unexpectedly learned a little more about it.
While in Vegas you will usually find me browsing the luxury shops. But this time I had the opportunity to take the public bus (thanks, Jeff) down to Fremont Street. (I don't think I'd been there since I was a child!) While this area definitely is a whole other side of Vegas, I stumbled upon a hidden Vegas treasure — the Indian Arts & Crafts store right near the New El Portal theater.
While the shop was definitely home to lots of cheesy tchotchkes, I was quite impressed by the jewelry counter. As a major fan of turquoise, I was drawn to the array of shades from blues to greens. Yum!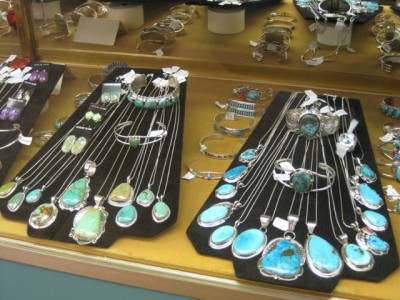 All their jewelry is hand made by local tribes. Each piece has the initials of the artisan on the backside, verifying it's authenticity. When I came home, I pulled out a thin, Indian bracelet that my mom received in high school. Sure enough, there was the initials of the artist! Unlike a piece I bought near Los Alamos, New Mexico — which I clearly purchased at a non-reputable place.
I came across this lovely woman while shopping in Burlingame shortly after my trip. Her incredible Squash Blossom necklace literally stopped me in my tracks. THIS is how to do the Native American thing in an extremely stylish way! Her outfit was simple, yet elegant, and she was only highlighting that one piece. Often people think if you're wearing the necklace, then wouldn't it be better to also add the coordinating ring and earrings? Absolutely not. This is when you end up looking like you're wearing a costume.
I am definitely on the hunt for my own Squash Blossom necklace. I did encounter some fabulous ones at Peregrine Galleries in Montecito, CA a couple weeks ago, but none that went home with me. I'm confident that the right one will appear at the right time.