I've been inundated with the color orange as of late, between Halloween, the San Francisco Giant's being in the World Series, the leaves changing outside my window…pretty much everywhere except in my jewelry box. The more I thought about it, the more I realized that I rarely see jewelry with orange stones. Why is that? Is it a color many don't prefer? Perhaps it's because there aren't as many varieties of stones with an orange hue? (In fact, how many can you name?) I'm really not quite sure.
At any rate, I took myself on another of my infamous virtual shopping sprees with no budget (like the one I took with green stones this past March). Before I knew it, hours (yes, hours!) had slipped by, but I had found some stunning pieces in so many different shades of orange. Here are my fave finds, in no particular order. Enjoy!
Earrings
Orange coral was one of the first things that jumped into my mind when I thought about orange jewelry, and this pair of earrings by Annette Ferdinandsen are just beautiful.
Ray Griffiths
designed these with a lovely orange harmony in carnelian and amber.
Sethi Couture
also has a lovely ombre effect in these diamond linear drop earrings.
Geodes are always a favorite of mine, and
Kimberly McDonald
used a stunning pair in these earrings.
Mary Esses
designed a party for your ears in gold, diamonds, and carnelian.
For a style with more angular lines, then these by
Kothari
are pretty amazing. It reminds me of photos I've seen of the sun's surface!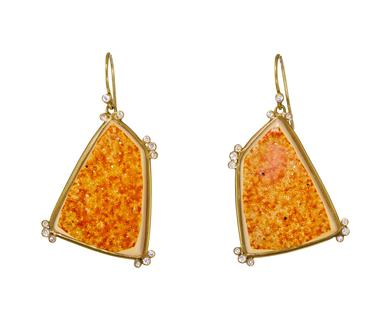 Necklaces
The traditional cameo was another image that popped into my head as I thought about jewelry with an orange hue. Amedeo takes the cameo to a whole new, modern level, as shown in this "see no evil" pendant.
Jes MaHarry
created an uber-cool necklace, with a wheel of coral, gold, diamonds, and a silver chain. its' a very chic bohemian look, which I would layer with other necklaces in a heartbeat.
This orange crystal and diamond necklace by
Jacquie Aiche
would be another great layering piece.
For more of an orange punch, then I'd go for this druzy agate pendant by
Peppina
.
Bracelets
Vaubel is a master with color in his designs, as demonstrated in this chunky bracelet.
Nak Armstrong
is another designer with impeccable use of color, this time with mandarin garnets.
For a skinny layering piece, this orange garnet bead bracelet by
Joseph Brooks
makes me smile.
And let's not forget adding the color orange in the form of a watch. I'd never say no to one by
Hermes
!
Rings
Jane Bohan designed a substantial ring with citrine and diamonds.
Mandrel Studio's
orange rustic diamond ring is so luxurious!
I like the idea of adding a skinny stack ring with a pop of color, and
Yossi Harari's
orange sapphire band would certainly fit the bill!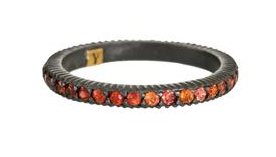 This Mexican fire opal and diamond ring by
Jamie Joseph
has intense complexity of color.
Pomellato
has a very sleek, modern design, also with a fire opal, complemented by rose gold.
And last, but certainly not least, this intricate coral ring by the talented
Cathy Waterman
.
Do you have any pieces to add to this list? Do you wear orange often? I'd love to hear all your opinions on the matter.