I definitely took note of the earrings Carey Mulligan was wearing on the cover of Vogue in May. They were so pretty, a bit vintage looking, and just the right complement to the dress. Little did I know that a just over a month later, I'd be meeting Marie-Juliette Bird, the designer of these beauties.
The line,
Blackbird and the Snow
, was showing at
JCK
and I was very excited to see it live. The pieces have a definite Victorian old-world aesthetic with a modern twist. These
Celestial earrings
were simply glowing, from the cabochon moonstones to the diamonds. And how unique is the display using an old picture frame?!
These mesmerizing cabochons were also divine in these Full Moon rings. The one with a
blue hue
is a rare ceylon moonstone, alongside a lighter colored moonstone set in gold. Equally dreamy, don't you think?
Marie-Juliette spent 8 years apprenticing in London for David Courts, who is known for creating the original
Keith Richards skull ring
. During her years abroad, she began collecting antique Victorian charms. These precious purchases now serve as the inspiration for her line, which is completely hand fabricated in the USA. She was wearing her current favorite piece, which is the 
Flying Swallows necklace
with diamonds.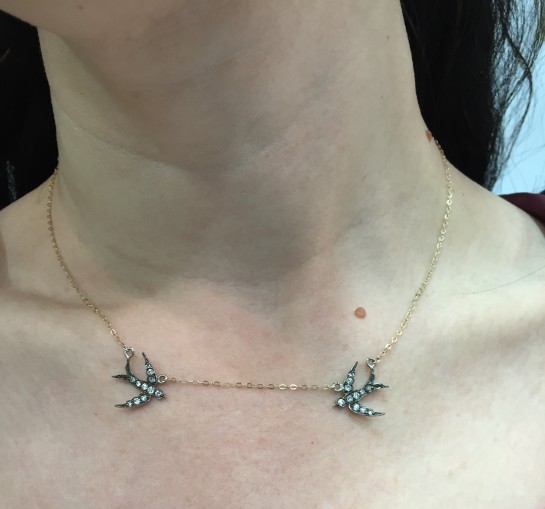 I thought the
Fancy Bird necklaces
with a singular swallow were just darling — especially the turquoise one! I would totally layer that with other necklaces to create a nature-inspired mix.
Nature is a driving force behind the line, and "…is an ode to the natural world; the pieces express a connection to the wilderness and a desire to immortalize elements -birds, insects, wings, stars, moons – that serve as the living, elemental poetry of our world." The heavens are represented in these necklaces. The rosecut gems really make them glisten, just like the stars in the night sky.
I couldn't help but notice the sweet hoops she was wearing as well, with a turquoise bird gracing her lobe. It's quite a clever design, as it would cover any elongated piercings you may have.
I was very curious about the name of this jewelry line. She explained that she sees her life as a tree, with different creative projects being different branches. Her band,
Blackbird and the Storm
is one branch, and her jewelry line is another. Creative to the core, this Boulder, CO-based artist is just beginning (2.5 in business now), and I can't wait to see what she comes up with next. Thank you so much for your time and letting me try everything on!