While on my southern California shopping expedition, I also stumbled upon another great boutique in the Malibu Country Mart. Anouk is a beautifully curated shop, most famous for their gorgeous boots. But let me tell you, a collection of unique necklaces, the likes of which I'd never seen before, practically called my name from a case in the middle of the store. ("Amy…Amy…come look….")
Vintage pocket watches were re-purposed…filled with sparkling Swarovski crystals, giving them artistic new life. The creative force behind these necklaces is Linda Schotz, and her line is appropriately called Vintage Jules, after her father.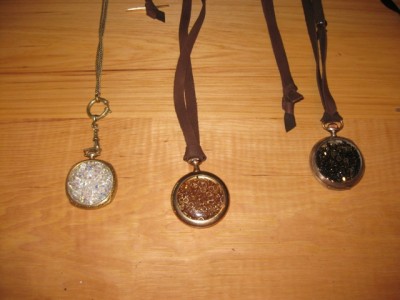 Here's one of my favorites I saw on her website:
An avid collector, Linda finds watches, medals, Buddahs, and other assorted treasures at places such as swap meets and antique fairs. She then creates an imaginative, completely unique piece of jewelry that will surely garner many compliments when worn.
Given my inexplicable love of all things Buddah (I swear, I must have been Buddhist in a past life!) it's probably a good thing that I didn't see these necklaces in person. Absolutely fabulous!
Though the Vintage Jules line is relatively new, now in its second year, I have no doubt that this is just the beginning!