While I am certainly not one for "rules" in the jewelry and fashion arena, there are still a few things that drive me crazy. So I'm here to share my "just don't do it!" list for you.
1. Total lack of jewelry
Aside from sleeping or working out, you should always give some thought to your jewelry ensemble. Heck, even when I donned my "going to the grocery store" outfit today I still carefully selected a nice pair of earrings, a few slim stacking rings and my watch. I mean really, who knows who you're going to meet when you're out — from your boss to your arch-enemy to your potential soul mate? You want to make a great impression, right?! Make an effort, girlfriend!
2. Matchy-matchy jewelry
I know that decades ago you had to match your bag to your belt to your earrings. But seriously, these days are long gone. As Stacy and Clinton always said, "Things have to go, not match." So when you're confronted with the matching set of bracelet, earrings and necklace, please take a pause. Even if you do purchase it, consider splitting the set to mix and match the pieces with other items.
3. Over-doing holiday jewelry
It's true that during my 8 year stint as a third-grade teacher I had quite the elaborate collection of holiday jewelry. And if you're a teacher or grandmother, I totally get it. But for the average Jane-about-town, there's really no need for the elaborate holiday get-up. (case in point: battery-powered jewelry) There are so many tasteful ways to wear holiday jewelry (perhaps your grandmother's vintage brooch on your coat during December) This is what not to do.
4. Excessively noisy jewelry
Unless you work from home, nobody wants to hear the banging of your bracelet stack or necklace with the bells on it all day. It's annoying to everyone around you, so please be aware of this. A musical tinkle from bracelets are just fine, but if someone can hear you from another room, then take heed.
5. Earrings that are too heavy
We've all done it — worn earrings that are too heavy for our pierced ears. And if you do it enough, then your hole will eventually lengthen and tear a bit. Continuing to wear heavy earrings just isn't a good look. I suggest either looking into the cosmetic procedure which will minimize your piercing, or select earrings that are lighter or in a style that won't highlight the sagging hole.
6. Wearing jewelry that you don't like.
I'm sorry, but life is way too short to wear jewelry that you don't like, let alone love. I don't care if it was a gift from your aunt from France or your best friend who lives next door. Be true to your personal style and wear what you love and what makes you feel fabulous. Period.
7. Ankle bracelets worn under hose
While I think ankle bracelets are "on the edge" in the first place (unless you're a total bohemian princess and it's integral to your personal style), then tread lightly. Wearing one on its own can sometimes be OK, but if you wear it under hose, then it's just all wrong.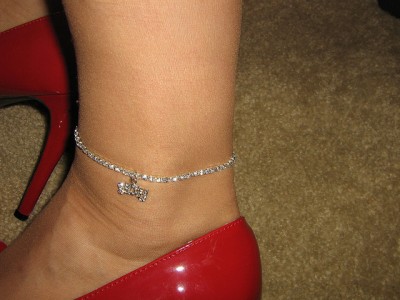 I'm sure some of you may take umbrage to these rules, and I'd love to hear from you. And perhaps you have some "don'ts" of your own? Do tell!