Right now my mind is drifting to the beach (as it often does), and I'm picturing Jane Bohan out in the waves on Fire Island. I think this talented designer loves the beach as much as I do, and she often finds her inspiration there. In fact, a surfboard was the thought in the back of her mind when she designed this turquoise necklace!
These necklaces are part of her Barcelona collection, with inspiration coming from the famous Spanish architect, Antoni Gaudi. Here's an example of his architectural style.
Jane has done a fabulous job interpreting the line and design of his work into her jewelry.
I tried on one of her bracelets from this collection, which features three stations with green quartz and mixed metals.
Jane started her hand-fabricated line back in 1983, when she was working with mostly brass and sterling. She has now transitioned to gold and precious stones. She thrives on creativity, and ideas come to her when she's out and about in her daily life. Clearly her time by the sea was inspiration for her opalescent waters collection. The depth of the labradorite in this ring summons a feeling of diving down into the sea.
Pearls are most definitely one of Jane's signatures. While speaking with her at the Couture show, I was admiring this new bracelet, made of south sea pearls, and oxidized silver fishbone chain with 18K gold accents. Delicious!!
Jane described her line as, "…sensual, sophisticated, and feminine," and I couldn't agree more. There were so many soft blush-colored tones in her pieces, which would flatter a wide variety of skin tones. You'll notice the texture on these rose gold and diamond earrings. Texture, is in fact, extremely important to her.
The junipers in her back yard were the impetus for the texture on these rings I tried on.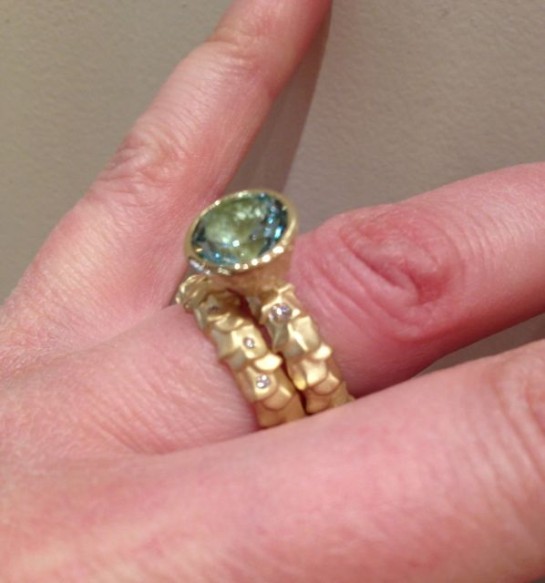 It was an absolute pleasure meeting Jane and trying on all her goodies! Her line is sold at various high-end retailers around the country, so you can go try on for yourself. (Click here for a complete list of stores.)