The way I look at Valentine's Day, or basically any other holiday, is that it's the perfect opportunity to buy yourself a lovely gift! Pricey, inexpensive, it doesn't really matter — just do it! (You know I'm a strong proponent of self-gifting!)
As I'm strolling around the internet this morning, I'm coming across quite a few lovelies that would be the perfect gift. I thought I'd share some of my finds and hopefully inspire you to go look for yourself.
1. Check out this stunning labradorite ring by Armenta. It's an investment, but it would look to-die-for with a necklace I already own.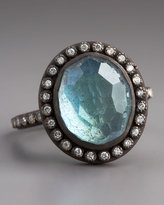 2. Since I'm always in search of gorgeous stud earrings, these rose gold druzy studs by Dara Ettinger might be just the ticket. (Love that they're under $100 too!)
3. I can always find some fabulous, ethnic jewelry at Maison K in Montecito, CA. This rhinestone and turquoise necklace from Istanbul would be amazing with an all-white linen outfit and gold sandals…with a drink in my hand…
4. I own these Jennifer Meyer hoops in yellow gold, and I'm surprised I haven't worn them out yet. Perhaps I need a pair in white gold as well? Decisions, decisions….
5. A statement necklace makes the simplest of tops look like you came right from Fifth Avenue. This neutral druzy necklace by Isharya would pair beautifully with jeans, a white tee and a camel cardigan. Yum!
6. I've tried this bracelet on twice at J.Crew recently. My wrists are tiny, and it actually fits perfectly. Layered with some of my bangles, I think it could be a very inspired combination.
Oh, the choices I have… And who's to say I won't come across something else while I'm out shopping today? And the bonus, is that this treat is calorie free, unlike those giant chocolate-filled heart boxes. So go treat yourself and enjoy Valentine's Day! Feel free to share any of your great finds — I'd love to see them.