When I was planning my trip to Scotland, I was under the impression that I'd stumble across countless antique stores — I mean the country is SO old compared to the USA. Alas, my desires didn't quite materialize. But you know how they say quality over quantity? That, I did find to be true. I've already shared Joseph Bonnar in Edinburgh with you, and now I want to share my discovery in Inverness, William Morrison Jeweller.
I actually came across this this shop, founded in 1902 by a Jewish immigrant named Isaac Finkelstein, completely by accident. I had just gotten some cash out of the ATM, and the rain started up. So, I dashed into the nearest door, which was the entrance to the Inverness Victorian Market, a small arcade of shops and eateries.
Not only was this a nice respite from the rain, but when I spied the trays of antique jewelry in the window, I knew I had to investigate further. The shop is not large, yet very well organized and brimming with merchandise. I love how in Scotland the antique jewelry is called "second hand."
Time flew by as I tried on different pieces and chatted with William, the owner. His father was friends with Isaac, which is how he ended up now owning the store. He delighted me with tales of the store being haunted — and how feathers often appear overnight in the shop, even though there are no openings to the outside. (Yes, I ate these stories up!) He showed me a photo of Isaac and even a receipt dating back over 100 years.
The shop basically hasn't changed at all since its founding, and the original grandfather clock still marks the time.
While I spent quite a bit of time pouring over all the jewelry…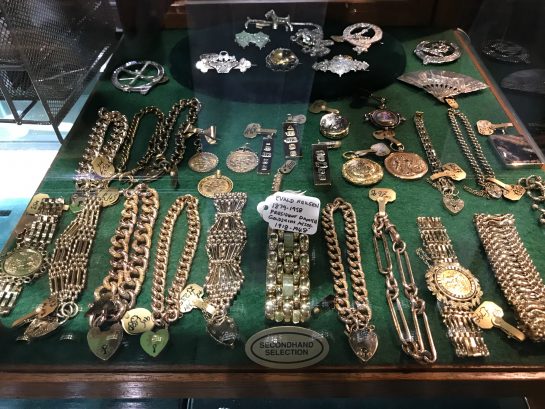 …I couldn't resist leaving without this rose gold snake ring from 1914. William was kind enough to look up its hallmark, which hails from Chester. I wonder who it originally belonged to?
I'm so glad that fate (and the rain) brought me to this store, and I really enjoyed speaking with William.
I spent a few nights in Inverness, and one of the main reasons I wanted to visit was so I could see the Culloden battlefield and the standing stones at Clava Cairns. (Any other Outlander fans reading this??) Since I was traveling by train, I decided to hire a private guide for the first time in my life. Man, did I luck out. I found David Laidlaw, the owner of
Scenic Routes
, online. He was extremely responsive over e-mail before my trip (I had actually hired him for more than one day), and as soon as I met him in person, I knew I had made the perfect choice.
Not only did David take me to these places on my list, but being born and bred in Inverness, he had many other special places to show me as well. Oh, and when you get hungry, two restaurants I really enjoyed are Hootananny and Black Isle Bar, which has quite amazing pizza in addition to their beer selection.
Inverness, thanks for the great visit!!