So what exactly is Art Deco that we've been hearing so much about? Basically it's a jewelry style that gained popularity during the World's Fair in Paris in 1925 and remained en vogue for about 10 years. It's name is derived from the official name of the fair, and it's characterized by very architectural features: squares, circles, and triangles that form very cool geometric patterns.
Art Deco has been popping up everywhere from the fashion mags to the street, so if this trend appeals to your personal style, then jump on the bandwagon! I've seen examples at a range of price points. Here are a few cool pieces that have caught my eye. First up is a pair of earrings that would take you from jeans to a LBD.
I think this red resin ring by Trina Turk would add a lot of umph to a maxi dress, with a margarita in hand, of course!
This fabulous Deco bracelet by Kenneth Jay Lane is very hot. It really combines two trends, with the cuff being another important theme this season.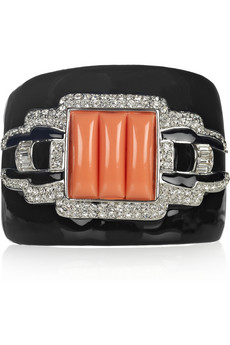 Finally, this necklace would spice up a slim cardigan and skinny jeans. Love it!
So if you want to get your speakeasy on, then scoop up this trend while it's in a store near you…because you know these things never last.