I seem to have quite a few passions in my life (beyond even jewelry), and hunting for sea glass is definitely one of them. Sea glass is like jewelry from the sea — pieces of old bottles and such worn smooth and frosty by the sea, waves and sand. As I write this post, I'm here in Fort Bragg, California, which is home to THE most tremendous beach for glassing in North America (and no, that's not an exaggeration). Glass Beach is beyond imagination — in fact the first time I visited here early this past July, I thought I must be in a dream or something, because it honestly didn't seem real.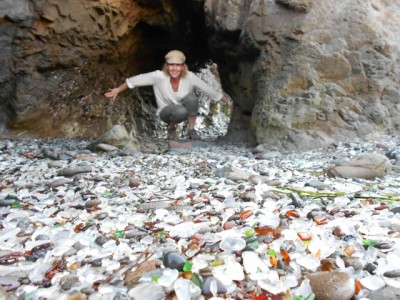 My passions for sea glass and jewelry have now collided. It all started with a beautiful rare pendant I bought from the website By the Sea Jewelry. I just a-DORE it, and wear it often, especially when glassing. (I probably shouldn't admit this, but my next pendant was just ordered while on this trip!)
When in Fort Bragg, you have to stop into Captain Cass' Glass Beach Jewerly and Museum! Not only am I completely envious of the fabulous finds Captain Cass has made, but he also has a nice selection of sea glass jewelry. Actually, it was pretty funny when I stepped in there today. Captain Cass saw me, didn't say a word and just pointed to the bulletin board. There I was! My photo, a picture of my glass haul from July, and a little blurb about how there's still glass at Fort Bragg. Never thought I'd see myself in a museum! Love it. 😉
If you find yourself in the Capitola, California area, you should also check out Village Sea Glass, which is in the heart of downtown. There, you'll find all sorts of jewelry and other sea glass art and products (including some driftwood/sea glass mobiles that were quite fab). Speaking of the Santa Cruz area, I just can't wait until next weekend, when I'll be attending my first sea glass festival! The Santa Cruz Sea Glass Festival is held Saturday, November 5th & Sunday, November 6th at the Cocoanut Grove at the Beach Boardwalk from 10-5. If this sounds tempting to you, then maybe I'll see you there!