My brother moved to El Dorado Hills about three years ago. I had no clue where this town was when he broke the news, but if you're driving there from the Bay Area, you take the 50 past Sacramento, towards South Lake Tahoe, and there you'll find it. Most of my visits are consumed with family activities, from my nephew's little league games to my niece's soccer matches. Aside from runs to Target and Bed, Bath, and Beyond, I haven't done an iota of "real" shopping on any visit. So HOW excited was I to finally see a fabulous store, and a jewelry store at that, this past weekend! The Talisman Collection is located right in downtown El Dorado Hills, and it's a huge space filled with amazing items, from jewelry to bags to great gifts for the guy in your life.
When I walked into the store, I must say that I was in a bit of disarray, after spending the past few days moving my brother and his kids into their new home. But that clearly didn't matter, and within minutes, the fab owner, Andrea Riso, and I were talking jewelry designers, stones, and trends. An hour passed in a flash, and I know I could have spent the entire afternoon there. She is beyond knowledgeable, and I learned so much from her. Do you know what this stone is?
I knew it was some sort of opal, but I learned it's a very rare water opal, worth $50,000. I was nervous to even hold it!! Pulling more stones from her stash, I got to see this fire opal up close and personal. I cannot describe the radiance of this stone (this is just an iPhone photo, if you can believe it), and I can't wait to see what she creates with it!
I was drooling when she brought out this necklace from
Paula Crevoshay
, who is the queen of colored stones. Who knew?! Andrea knows, that's for sure!
The striking blue stone is
hemimorphite
, which looks like this in its natural state.
Also by Paula Crevoshay is this fantastic
Paraiba tourmaline
ring. The weight of it felt just divine on my finger!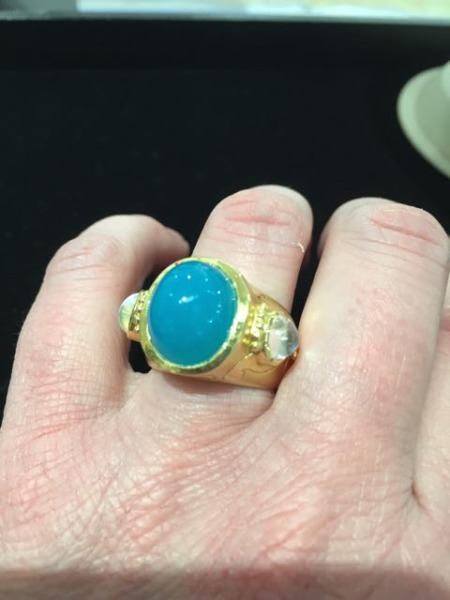 In the multitude of cases lining the store, there were many of my favorite designers, from
Anne Sportun
to
Sethi Couture
to
Zaiken
, to name a few. But there are also some new names for me. One is
Laura Medine
, who it turns out is the mom of the infamous
Man Repeller
. (Love her–and she has such a following!!) It was this trio of necklaces that first caught my eye when I entered the store. The allure of alexandrite and peach moonstones was mesmerizing!
And seriously, how gorge is this moonstone and diamond bracelet?!
I also became acquainted with
Fernando Jorge
from Brazil. This necklace of sapphires and black gold made me want to go out on the town!
I was loathe to get on the road back to the Bay Area, but reality sunk in, and I had to stop playing with all the pretty jewels. Whether my brother likes it or not, I'm definitely going to be visiting this store on future visits. I know my 6 year-old nephew will be more than happy to accompany me, as he told me (as we were once peering through the store's window off-hours) he loves the kid's corner and said, "They have really cool rocks there!" Thanks to Andrea for the wonderful introduction and tour!
P.S Andrea–we need to meet for a drink at Couture this year!