Being a self-taught cook, I can wrap my brain around. Perhaps even teaching yourself how to dance. But being a self-taught fine jeweler? That's on a whole other level! Self-taught Elizabeth Garvin, based in the Village in NYC, has been designing jewelry for over 20 years, and she launched her fine jewelry line a couple years ago. It's very modern, full of geometric design, and extremely wearable. Her signature is the "Cyclone Ring," and I'm sure you can see why.
Hand-fabriating each piece with 18K gold, 950 palladium, oxidized silver and diamonds, Elizabeth truly comes up with original pieces, the likes of which I haven't seen before. It would be worth creating an entire outfit around these earrings.
In the same "gust" series as these earrings, is this complex ring. I can envision the gusts of wind that the shape of the metal represents. (At least that's how I'm interpreting the design…)
In keeping with sinuous curves, is this "Eye of the Storm" pendant. That's a storm I'd be willing to brave!
This "Spiral" necklace would add interest when worn with any outfit, even on the most casual of days.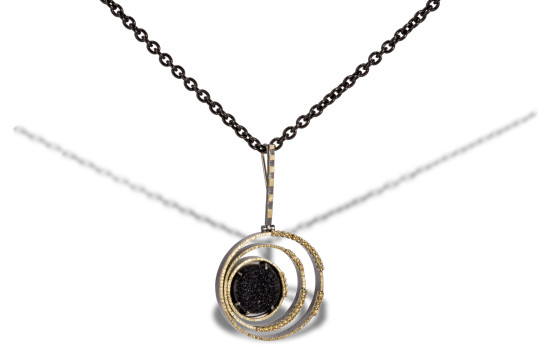 I am seeing this "Twist" ring as the perfect option for a bold middle finger ring.
Elizabeth says, "When a woman designs jewelry for another woman, there's a sensitivity…carefully honed to suit a woman's body, to flow with her lifestyle, and to become part of her own personal expression." Well said. I can certainly see these earrings being part of
my
personal expression, with their mixed metals and diamond accents. So pretty!
It was wonderful spending time with Elizabeth at the
Couture
show. Click
here
for a list of retailers near you.