While I certainly enjoy ripping into a sweet baguette right out of the oven and pairing it with some creamy brie, the baguette I crave even more is that brilliant cut of diamond. Suzanne Kalan is a master of creating out-of-this world designs with various colors of diamond baguettes. The top of my list? Her Fireworks bangles. Coming in three sizes, they are beyond comfortable to wear.
While at the
Couture
show, I couldn't stop trying them on, and for the life of me, I could not decide which was my favorite…There's also rings in the collection, oh my!
Based in Northridge, CA, Suzanne has been in business for over 25 years now and it's truly a family affair. Her husband selects and sets the diamonds; her daughter, Patile Kalandijian, now is working on KALAN by Suzanne Kalan, their 14K gold collection which features beautifully colored stones and diamonds. Just during my time in their exquisite booth, I could feel the warmth of their family. They are passionate about their jewlery as well as their clients. I learned that Suzanne sold her own diamond tennis bracelet, which was a wedding gift from her parents, to get the funds to start the company! Every piece is still made in house in southern California. Awesome.
Here are a couple more examples of how Suzanne creates harmonious chaos with baguettes.
And what do you think of these statement ruby earrings, highlighted with a frame of baguettes?
Or perhaps a linear design is more your cup of tea?
Suzanne was showing a "Starry Night" collection as part of the Rio Tinto collaboration. I was lucky to try on this double star ring.
The Vitrine collection is also mesmerizing. In this group, she takes a gemstone and cuts it flat on the top and bottom. This stone is then a window of sorts to peer at the diamonds behind the stone. Ooh la la!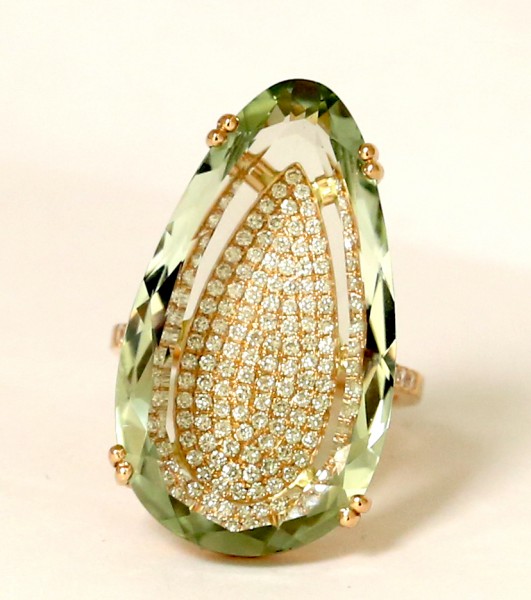 Giuliana Rancic showed off some Suzanne Kalan earrings at the Met Gala.
The 14K KALAN by Suzanne Kalan line is a perfect complement to the 18K line. Originally developed for a younger audience and at more accessible price points, this colorful collection truly works for everyone. (Check out more of this line at
Sak's
.) I first tried on this topaz and moonstone ring.
J'Adore these long topaz earrings!
This design, with it's off-kilter rectangular stones, is so harmonious with the Fireworks collection, don't you think?
These earrings once again show how they reign supreme at unique stone configurations, really taking it to the next level in style.
Time definitely flew by while trying on all these dazzling gems. Thanks to Suzanne and her team member Rebeka for the tour!
If you'd like to enjoy more images, I encourage you to follow Suzanne Kalan on Instagram.