Circle & Square is a very chic jewelry and accessories store tucked away on Presidio near Sacramento St. in San Francisco. I always love to stop in and see their latest, one-of-a-kind discoveries. The owner, Bunny Fayne, really has an eye for selecting unique items that you won't see anywhere else!
I stopped in the other day to take advantage of a promotion they had going on (I mean really…how could I possibly resist a discount on jewelry?!?), and I was completely taken with the line by Susana Speidel. It turns out that this locally-based designer (Mill Valley to be exact) is a veteran antiques dealer and collector. She and her husband travel the globe collecting vintage jewelry, from broaches to bracelets. She then uses them to create beautiful, new pieces that pay respect to the past while still looking incredibly current.
I think my friend Jen would love this necklace. It's made from a 1940's Trifari blue bow brooch with pearls, stones, rock crystal, and pearls. So unique!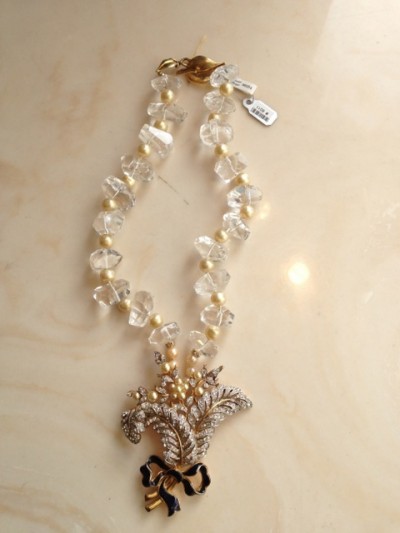 Personally, I fell in love with this stunner. It's a 37″ long French metal chain with agate and brown rhinestones. I'm not exactly sure of any dates for this necklace, but I'm sure it's seen its fair share of decades!
And look at the back view!
I must admit that I don't have a wide range of knowledge on vintage jewelry (yet), but I know what I like and what I don't, regardless of it's monetary value. Susana's work has inspired me to dig a little deeper into this exciting avenue in jewelry. I can't wait to learn more!