I'm embarking on a big solo adventure this summer. Being the jewelry-a-holic that I am, as soon as I booked my flight, I started planning my jewelry wardrobe before anything else. I was browsing the Ylang 23 website (I'd hate to admit how many hours I've spent window shopping on this site!), when I came across this "dream" charm from Foundrae. I got tears in my eyes as I read the symbolism of the piece, "The divine triangle is associated with pyramids, arrowheads & sacred mountains. It represents the journey of self-discovery, revelation and ascension. The arrow represents powerfully launching forward and the star provides energy and divine guidance." There it was — the perfect talisman for my adventure.
Since receiving it, I've been playing around with how to wear it. First, I tried it on my
Marla Aaron
bracelet.
At
the Couture show in Vegas
, I decided to add it to a Marla Aaron necklace, on which I also hung a big enhydro quartz pendant by
Monica Marcella
.
Alysa Teichman from Ylang 23
took a cool candid of it when I met her on the show floor.
But let's get back to Foundrae, the jewelry brand launched just a year and a half ago by Beth Bugdaycay and her husband, Murat. It was the first day of the Couture show, I walked down the middle aisle, and there was Beth — my very first stop! And no, I didn't plan it that way. Just kismet. Yay! I introduced myself, and once again I got a bit teary telling her why I bought her charm. I felt an instant connection with Beth, which of course makes me love the line even more.
I had the opportunity to ask Beth some questions about her jewelry, and here's what she had to say.
I'm fascinated by your transition from the fashion world to the world of jewelry. What prompted this shift?
I wanted to do something more personal to me-jewelry was natural for me because I have always defined my personal style by jewelry.
How did you come up with the symbols for your original collections?
We came up with the symbols first, before we designed any of the jewelry itself. We refer internally to the symbols as "the Foundrae lexicon" and we still haven't used all of them yet! They are symbols that I consider "found" from different cultures, different eras, and then I mixed them together. All of them were symbols that I was already familiar with and wrote down from memory.
At the show, you debuted your new collections: Passion, True Love and Resilience. Can you share a little bit about these? 
They are all chapters of our With Every Breath collection. Where the Core Collection is about self-recognition and self-discovery, this second collection, With Every Breath, is about creating beauty in our lives by following our hearts. It celebrates the connections we make and the possibilities we create when we not only discover our passions, but find the confidence to embrace them fully and without apology.
And yet in this collection is also the recognition that it is also a perilous journey, one whose joy is often punctuated by vulnerability, darkness, and doubt. But it is this duality, these extreme highs and lows, that make life not only worth living, but meaningful and beautiful.
The materials in With Every Breath reflect this twinned darkness and light, with a moody, intense palette—black, bordeaux and blush champlevé enamel—and a vocabulary of powerful iconography inspired by fantasies and ancient mythology: just-bloomed flowers, crossed arrows, wings, and thorns.
The surrender to passion is not a single moment; it is a lifelong process, with steps forward and back. These pieces are meant to be your companions on your journey, and even, to encourage you to move forward when the path seems most daunting. A life lived in pursuit of your dreams is never easy…but then, nothing rewarding ever is. The phrases that repeat themselves across the collection—If not now, then when?; With every Breath—are reminders of this most challenging and thrilling journey of the heart.
WITH EVERY BREATH chapters and symbols:
Passion
Crossed arrows: Two individual arrows, cross to form a new whole. A union of friendship, of love, that didn't exist separately.
Wings: Unbridled exuberance. With wings we are creatures of the limitless skies; with wings, we can climb as high as our dreams allow.
True Love
True Lovers knot (also known as Bowen's knot): represents the connectivity of true love
Spark: It just takes a spark to begin a lifelong journey
Resiliance
Thorn: the risk we assume when we try for something we love. You can't separate the thorn from the blossom.
Dark Blossoms: Blossoms bloom even in darkness. Resilience.
I love the horseshoe ring I tried on at the show. Can you tell me about the symbolism of this piece? I know it's part of your Abundance chapter
We haven't fully shown this chapter yet. The horseshoe ring and necklace were sneak peaks. The horseshoe is for abundance. We don't need luck. It's about gratitude and recognizing the abundant lives we already lead; it's filled with diamond flowers.
Diamond Flowers: Wild, abundant, and untamed, these flowers are fed with passion
Do you have certain pieces of jewelry that you wear everyday? 
For about the last year and a half I've worn the strength cigar band on my right pinkie plus a thin band and a gold vintage signet. On my left hand I've worn a gold signet with a "B" that says "light and divine guidance," my diamond eternity vintage wedding band, a dream wide band, a blue thin band w/ my kids names on it, and I recently added the diamond baguette "if not now then when" band and 2 black "with every breath" thin bands.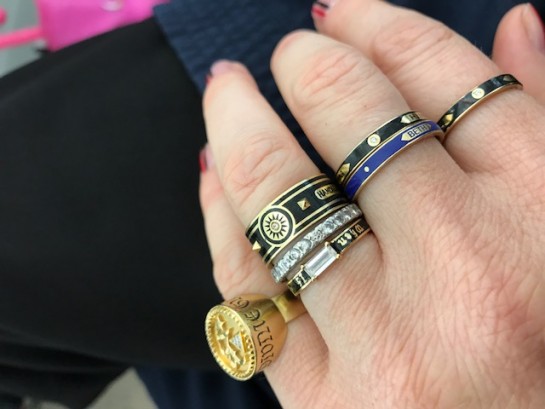 On my neck, I wear the 15" extended clip necklace with a large 28mm initial medallion as my base. Then I add different medallions to it, usually protection, dream, and then a few initials in champleve enamel or diamond flowers. I've kept the same base for over a year but change the medallions.
On my left ear I wear a pair of petite orbit earrings on the 1st and 3rd holes, then in the middle a diamond(esque) thorn earring — I'm pretty sure it's costume or silver, I can't remember but I've had it for years. (It's a different shape thorn than the one we just made-it's like the thorn on a rose stem) My right ear I tend to change daily — either a bunch of small earrings or a few hoops in a variety of sizes.
What would be your dream for your line in the next 5 years?
I want to build a business that can offer good benefits and salaries to the team.
From this inside look into the line, you can see that this really is a jewelry collection rife with meaning and symbolism. Through the pieces you choose, you are showing your own life, dreams and passions via jewlery. I absolutely love it…even moreso now that I've met Beth in person and felt the energy she radiates. Beth, thank you for your time, knowledge and creativity!