I've been following The Woods Fine Jewelry for quite some time now, though I've only seen a few of their pieces in person at Carrots, one of my fave SF boutiques. When I saw that the two sisters, Shawn and Sam, would be doing a personal appearance and trunk show at Carrots the day after I got home from 3 weeks of travel, game on! I battled major traffic and a parking dilemma, but it was well worth the effort.
The two sisters, based in Denver and Aspen, launched their line about 7 years ago. When I inquired how they co-design while being in two different cities, they told me that they are really each on their own design path. How interesting! But their aesthetic blends perfectly, and their luxe, naturally gorgeous line has really taken off.
Here's a shot from their website which gives you sort of a feel for their line.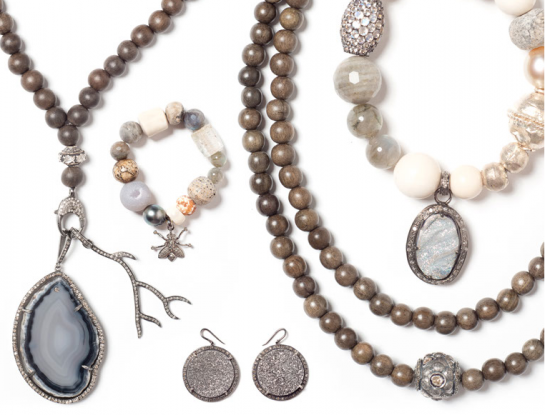 While they have traditionally been known for their beaded pieces, they are now moving more into chains, with a variety of pendants that can be interchanged. Take a look at these gorgeous chains (on my jewelry lust list, for sure!) and this re-claimed deer antler with inlaid diamonds. Seriously, this pendant was the size of my hand!!
Here's another stunning enhancer, which would look fabulous on a variety of chains.
I tried on a stone arrowhead pendant, surrounded by diamonds, on a pyrite bead chain. Can I say l-o-v-e? Fab on it's own, or easily layered with other necklaces.
This trunk show was the first time I've tried on some of their rings. I think the design on this articulated cross ring is fantastic.
Here's a shot of me wearing another of their rings, along with a diamond bracelet with a resin horn. Oo la la!
This line really is a natural, organic way to rock some diamonds. Do you think it would meld with your personal style? If so, check them out!