I must admit that I never did very well in my history classes, but if Coomi Bhasin had been my teacher I would have rocked it, no doubt! During the course of our interview at the Couture show, everything from the Mesopotamian Era to Alexander the Great was thrown into the mix. This beautiful, highly intelligent and evervescent woman really wowed me, as did her jewelry line.
Coomi, a Mumbai native who has spent her whole life designing, studied construction management (I can SO not picture her in a hard hat!) as well as being a textile designer and landscape architect. She made the official switch to full-time jewelry designer in 2002, at the age of 52. The fact that she followed her dream is a true inspiration to me.
Now let's take a closer look at some of her work, which she describes as "important, yet wearable." Here's her Lucy necklace. Lucy was one of the oldest skeletons every found, and Coomi designed her skeleton in gold, just as it was found, backed by an arrowhead, over 10,000 years old. (See what I'm saying about the history lesson?!) Have you ever seen anything quite like it? I sure haven't!
I adore how she used another arrowhead in this fantastic cuff.
I was quite taken with this 15th century bronze buddah ring. I tried it on was amazed to see that it had a backside covered in diamonds. She told me with a glint in her eye, "They're just for you!! No one else knows they are there!" Coomi told me that diamonds have the purest energy of any stone, and they must touch your skin to release the energy. She has one on every single piece she makes.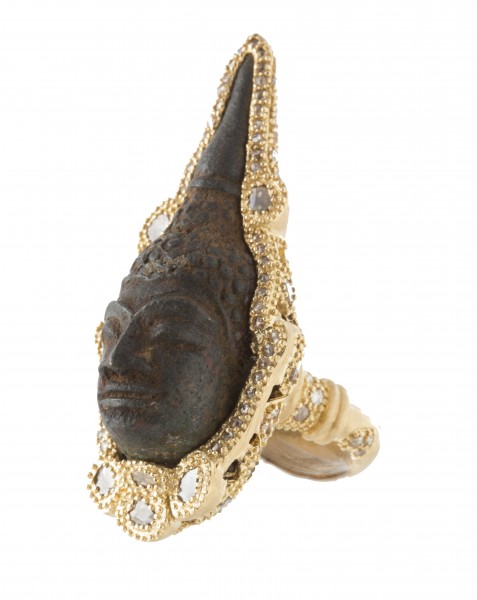 This diamond cuff is honestly a work of art. Each diamond takes two hours to set by hand, if you can believe it. That's one labor-intensive bracelet!
One project she has worked long and hard on is how to create a diamond piece without any metal showing. Two years in development, she finally worked it out (I guess this is where her architectural training really comes in handy!). Here's a diamond and ruby necklace in which the gems just seem to be floating. This was her first attempt with white gold, and I say she nailed it!
Another necklace she showed me was this one from her Serenity collection. It depicts the desert rose from the Kalahara desert in Africa, which blooms only once every 100 years. The diamonds represent the water droplets that get trapped in the bottom, center of the flower, and the texture of the gold represents the dryness of the desert sand.
Coomi has also recently launched a silver line, which is currently available at
Neiman Marcus
and
Wilke's Bashford
. You can find her line at numerous states across the country, so if this collection intrigues you, then I urge you to go see it in person!