I was not completely unfamiliar with Anzie, when I came across her booth at the Couture show. In my mind's eye, the jewelry line was full of candy-colored gems. But come to find out, there's a lot more than just color in this line.
So back in 1996, Anzie's husband was diagnosed with cancer. Spending countless hours traveling from their home in Canada to treatments in New York and Los Angeles, Anzie had plenty of opportunity to browse the local shops. While doing so, she came up with the idea of creating jewelry to raise money and awareness for colorectal cancer. This was where the Lifesaver bracelet came to fruition, created from lovely, brightly-colored gemstones.
Fortunately, Anzie's husband beat his cancer! And in 1999, along with her daughters, Jaclyn and Joanna, the company was officially founded.
As I thought, this line has TONS of color in it, and I found out that the colors are often inspired by her mom's garden. With brightly-colored jewelry being one of the top trends of the season, I can imagine that their pieces are flying off the shelves.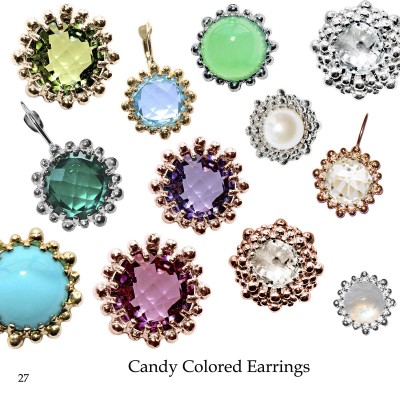 But there are also some spectacular creations in neutrals as well. I think these, in black and white, are quite stunning.
Anzie's line has a wide range of price points, from about $150 to over $10K. I've been seeing her jewelry on more and more celebrities as well. (because you know I'm addicted to the entertainment news and all the mags!) Here's Katy Perry in a smashing bracelet of different hues of blue.
And one of my favorite celebs, Giulianna Rancic.
If you're unfamiliar with this line, and it appeals to you, definitely check it out! They're sold at a variety of retailers in the US and Canada, as well as on their online boutique. Happy shopping!