Summer is here, and it's time to travel! One of my clients is taking a fantabulous trip with her two young boys. The itinerary includes Paris, London, Italy and the south of France. (Who me? Green with envy?!) While she's not limiting herself to a carry-on bag, we also don't want to have a monster-sized bag that she has to lug around from place to place. So the key is to have outfits that will definitely do double or even triple duty. This striped maxi dress by Vince is a great starting point.
Now I know many of you might be saying, "But, Amy,…don't you know that horizontal stripes are universally unflattering?!" I hear ya, but I'm going to call you on it. This is an old rule (like not wearing white after Labor Day), and it's
not
always true. I've been pleasantly surprised with many striped outfits over the years that look totally hot. And remember, the outfit will be broken up with other items and accessories, so that is also a big contributing factor.
For the first look, I'm going for a, "Come on boys! We're going to spend the whole day wandering the streets of Rome — from savoring gelatos at the Fountain of Trevi to visiting the Sistine Chapel." Translation fashion-wise: very comfortable shoes, layers, and fun jewelry. I always advise my clients to travel with costume jewelry. No need to tempt a pick-pocket, right?! This cargo vest by Velvet is the perfect day look for over the dress. (The pockets are an added bonus for keeping track of tickets, etc.)
For the sake of comfort and safety, a cross body bag is a must. Adding
this one by Marc Jacobs
in a bright red-orange hue definitely adds some punch to the outfit.
I definitely prefer when things are not all matchy-matchy. And I hate to say that for this trip, an actual comfort shoe is in order. Now this doesn't have to mean you have to look like an unstylish tourist — I promise that there are some cute, hip alternatives out there, such as these
metallic sandals by Ecco
.
Since the vest looks best worn open, I want a long necklace, which will in turn elongate the whole look. Love this
white beaded necklace with a tassel pendant
from Anthropologie.
These
double teardrop earrings
and an
organic slim cuff
finish off the look. This bracelet would also stack very easily with others that might be in the suitcase…or acquired at a street market. (Yes…I'm dreaming of what I'd be doing there!)
Now for the stint in Paris, I know that she is meeting up with some other moms for a girl's night out, Parisian style. Oo la la! So she much look tres chic, or I'll be in trouble! So same dress, but let's go a little more high style. First up, ditch the vest and don this
white silk jacket by Amanda Uprichard
.
Then leave the flats in the room (with the kids and the babysitter) and strap on these
heels by Sol Sana
. One reason I like them for travel is that they have a very wide heel base, making it much easier to walk on cobblestones, especially after a few glasses of champagne! The wide straps also give your foot a lot of support, holding you in as you meander to the next stop for the evening.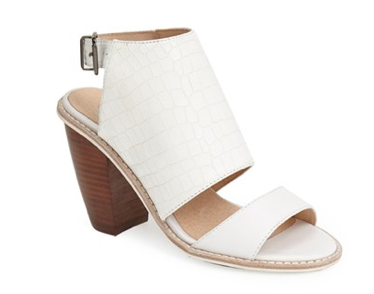 For a bag, I think a wristlet is the perfect solution, as it is safer having it around your wrist (as opposed to just a clutch), and it can double as your wallet for the rest of the trip, tucked inside the cross-body bag. And you know I certainly don't want a boring one, so
this gold version by Halogen
adds some nice shine to the outfit.
I opted for a shorter necklace for this outfit, and in a much more streamlined, sophisticated style. This gold and lucite look by Alexis Bittar is just the ticket.
Paris is certainly one of the global headquarters of fashion, so I've got to make sure she blends in with the locals. (I told her if she gets asked for directions, then I did my job well.) These
reversible stud earrings
give some edgy attitude to the outfit. Might be fun to wear one with the gold side showing and one with with sparkles up front for an unexpected twist.
To continue this edgier look, I think it's great fun to bring a set of multi-finger rings, along with a stand-alone ring to mix and match for different looks. Again, advising against bringing fine jewelry while traveling, this affordable
ring set by Luv Aj
and
open design ring by Campbell
are cool without the major price tags. These rings will also go great with her more casual looks, and they can be worn in different configurations.
Since Paris is one of THE best places in the world to find amazing costume jewelry, I hope that my client has some time for a little shopping as well. Can't wait to hear all about her adventures! And don't forget, if something in this article piques your interest, just click on the blue links for more info. Cheers!