So do you have fond memories of playing Scrabble while growing up? I know I do, as do millions of other people around the world. Well Hasbro Inc., the creators of this uber popular game, has teamed up with World Trade Jewelers to create a whole Scrabble jewelry line! Famous for their Hershey Kiss jewelry, this line will be available to the public sometime this fall. (Jewelry collections for My Little Pony and Candy Land are also in the works.)
Of course, the stars always have first access to the hottest items, and the Scrabble necklaces are being spotted all over Hollywood, from Olivia Munn to Brooke Burke. Initial or monogrammed necklaces are all the rage right now, so it's no surprise that stylists are swooping them up for their celeb clients. Here's Carly Rae Jepsen sporting a "C."
The first pieces that will hit the market are the pendants. They come in sterling with white diamonds and 14K yellow gold with black diamonds.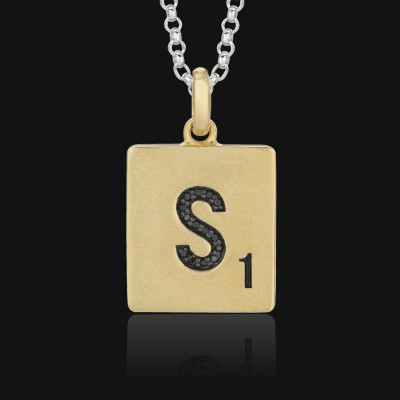 When I spoke with World Trade Jeweler's CEO, Murray Shabot, last week, he said that this is only the beginning. There will be some pieces made of wood (birchwood and mahogany), cufflinks, and even a bangle where you can add letters to spell out what you want. Cool! The price range will run from $50-$1000, so there's really something for every budget.
One thing I love about this whole concept is that it really appeals to both kids and adults — it's nostalgic and current at the same time. I also think it will be a great necklace for layering. Here's Amanda Crew wearing an "A" with a simple tank.
I would style it layered with a couple longer necklaces to create a fun look. I will get to see this line in person this week, as it debuts at the JCK jewelry show in Las Vegas. Can't wait!
(Photo credits for Carly and Amanda: Look Los Angeles PR. Photo credits for pendants: Lazar Advertising)