As an image consultant and personal shopper, I think of Union Square in San Francisco as my "office." While walking around pre-shopping for a client the other day, I was amazed at how many statement necklaces I spotted just within three hours. Of course, I wasn't able to get a photo of all of them (I probably saw about 15-20), but here's a sampling of what was sparkling at the square on this lovely September afternoon.
This visitor from South Africa was showing some major flower power, between her necklace and her embroidered jacket.
The juxtaposition of the bright turquoise with the black blouse caught my attention on this woman.
This gal told me that her Nordstrom purchase has become one of her go-to pieces.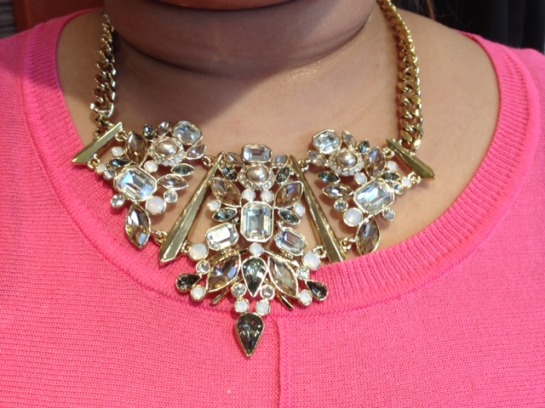 And while walking back to the parking garage, this woman rocked her $9.99 necklace (no joke!) from Forever 21.
So what about you? Do you incorporate statement necklaces in your wardrobe? Or is this a style that you'd prefer to admire on others, while you enjoy a more minimalist personal style? OR….do you think this trend is passé? I definitely want to hear your opinions!