"Fortune favors the bold," Shannon Koszyk told me when I met her at the JCK show, and her jewelry is certainly testament to this mantra! You may remember me writing about her WWI Victory Medal bracelet back in June of 2013. (Click here if you missed that story.)
Excited to finally meet her in person, I was able to see how her collection is such a mix of raw and refined, light and dark, edgy and fashion forward. I was intrigued. I first tried on this diamond bar
ring
. Though it looks like it's a multi finger ring, it's only one, with the bar extending wide on top. Very comfortable, and definitely a statement.
As she told me, she's "vintage obsessed" and loves incorporating vintage pieces in her designs, from coins to medals to crucifixes. She took this 1924
Kroner
from Denmark, set it in sterling and then made it sparkle with diamonds. Such unique juxtaposition!
Leather is also one of her go-to mediums, with its tough vibe, yet soft feel. This unisex
Crux Wrap Bracelet
can also be worn as a necklace.
Speaking of necklaces, you must know by now that I have a total thing for horns — so no shock that I would love to wear this
diamond horn necklace
! This shows her signature bronze hook clasp.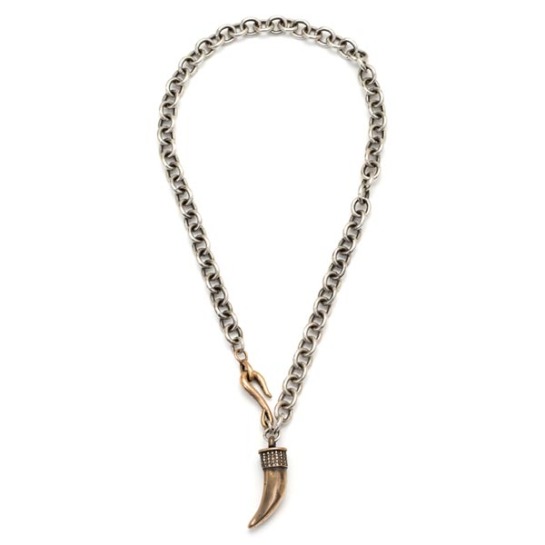 Making every piece by hand in her Seattle studio, Shannon also has branched into the fashion and home decor world. Partnering with
Currey & Company
, she has designed some pretty unique light fixtures, such as this
Fortune Chandelier
, made of wrought iron.
While my small apartment may not be able to accommodate her chandeliers, these killer
drawer knobs
would certainly work!
Her vintage obsession also includes military shirts and jackets, which she takes and re-works. This unisex camo
Audaces
jacket could be styled many ways. Personally, I'd pair it with a pair of distressed narrow jeans, rolled up, with booties and a silk tank. Very masculine meets feminine.
Such a pleasure to meet Shannon! She sells her work around the country, so click
here
for a list of stockists. By the way, if her aesthetic appeals to you, then
definitely
check out her
Pinterest
page — she has some amazing boards!