Over the weekend I had the opportunity to visit Angela's in Menlo Park, one of the most chic, well-curated stores in the Bay Area. Angela has such an eye for sourcing the unique. Given that I shop pretty much every day (no joke!), it takes quite a bit to turn my head and pique my interest. This is exactly what happened when I spied her case of Goossens Paris jewelry. Not only was it a brand I've never heard of, but I loved it! These two bracelets particularly had me reaching for my iPhone to take a photo. (If you want to learn more about these pieces, you can contact Angela's at 650-323-7410)
I love how bold they are, and they're SO easy to blend with any outfit with the rock crystal. (Yes, I'm showing
my obsession with rock crystal
again!) And the price points? VERY reasonable. I think incorporating fashion jewelry in with fine jewelry is the way to go. Not only does is create a varied, layered look, but it's much easier on the budget as well.
This got me inspired to take a look online to see what other sculptural bracelets I could find. I discovered many options, and they really suit a variety of personal styles. In no particular order, here's 10 different designs. Perhaps one will pique your interest?
Marni color block leather cuff
Proenza Schouler cube bangle bracelet
Nest blond horn rotating disc cuff bracelet
Eddie Borgo safety chain cuff bracelet
(It also comes in a rose gold tone.)
Elizabeth and James Connolly cuff
Alexis Bittar crystal-framed lucite cuff
Alexis Bittar large liquid metal dome bangle
Morpheus cuff from Sundance Catalogue
Lulu Frost jardin cuff bracelet
House of Lavande Kemala crystal bangle bracelet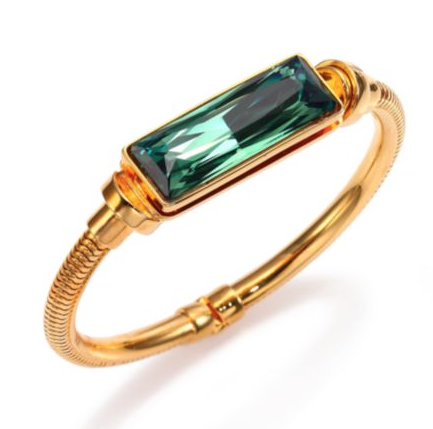 None of these are fine jewelry, yet I think they all give a pretty big look for the investment. Could you see yourself wearing any of them? Perhaps you're a long-time bold bracelet aficionado? I'd love to hear from you in the comment section below.