It's not often I see a line which renders me speechless, but when I saw Lydia Courteille's line at the Couture show, I was dumbstruck. This is something you'd see in a museum — certainly nothing like I'd ever seen in my day-to-day shopping. It's completely fitting that her tag line on her website is "rare jewelry," as that's indeed what it is. And here I was, meeting Lydia and trying on her gems. Life is pretty darn amazing sometimes.
This Paris-based designer has that quintessential je ne sais quoi about her, and I was enchanted. The first ring I tried on was sublime. Here's a couple different views.
Have you ever seen anything like it? The dimension and the strata of color had me twirling my hand around to appreciate its depths.
Rubellite, a rare red tourmaline, is currently her favorite stone, and she has a splendid collection utilizing it called "Scarlet Empress." It's inspired by the Russian Empress Catherine II, and she incorporates both fantasy and the 18th Century in her designs. Here's an example from the group, showing the color and intricacy of the work in red-coated gold, rubies and spinel.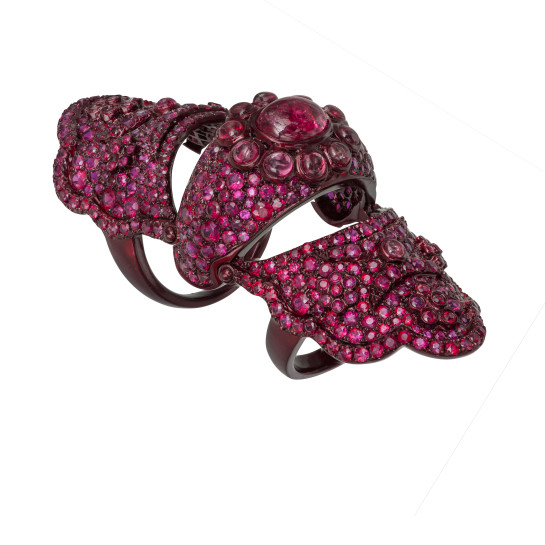 In speaking with Lydia about her inspiration, she talked about everything from savoring time in a boat on the floating gardens of Xochimilco in Mexico to all the time spent in museums. Her travels have certainly brought a fantastical essence to her designs, as seen in this 3-part ring which she told me is, "magma on the sun."
I love how ahead of the curve she is. In fact, I think she may be one of the true visionaries in wearing one dramatic earring. Here, she showed me two different styles of "Chinese Kite" earrings, which are fab worn one at a time, with something simple on the other ear.
The sea is also a big inspiration, and one I can most definitely relate to. How lovely are these earrings, with adjoining seahorses.
Lydia told me she is always in search of stones. She puts them all into a big box, and when she feels she has enough, she lets creativity take over. She feels a strong "pull" and puts her own culture into her designs. She feels that "jewelry is a team story," from the workshops to the PR team, and "success is a result of everyone." I so appreciate how her passion was bursting forth during our interview. It was an immense pleasure meeting her.